What Makes Account Wizard Different?

More Than e-Commerce
Account Wizard is more than just an e-commerce. Account Wizard touches many areas of your business - from advertising your goods, to making the sale, to providing follow-up customer support, Account Wizard is the answer. Account Wizard is an electronic tool that can be used to give your business a competitive edge in an opportunity laden marketplace.

No Double Entry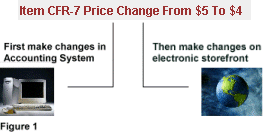 Much like your accounting system, current e-commerce systems are only as good as the information put into the system. Most "e-commerce storefronts" require you to setup your items through the internet, in addition to setting up the items in your accounting system. Everytime you change information in your accounting system, you would not only have to make this change in your accounting system, but you would also have to make the change on your "e-commerce storefront" as illustrated in figure 1.
Account Wizard was born of an entirely different philosophy. The designers of Account Wizard realize that all the information of value to you & your customers already exists in your accounting system. If a system could be designed that would build its base from your business accounting system, you could avoid the double entry and maintenance issues that are required with current e-commerce systems.
Account Wizard then takes this philosophy beyond e-commerce by providing post-sale information that your clients require. Account Wizard will even notify your clients when you ship their orders (and not just the orders that are placed via the Internet - all their orders). Account Wizard will even send past-due notices to your slow paying clients. These are just some of the features of Account Wizard. More than e-commerce - Account Wizard represents the future of integration between your business and the Internet!

Data Extraction
Account Wizard will actually extract information from your accounting system and transfer that information to the Account Wizard Master Server on the Internet. The data transfer is fully secure, using state-of-the-art security measures including data encryption, password protection, SSL (Secure Socket Layer) and more. The information transfer process is illustrated below.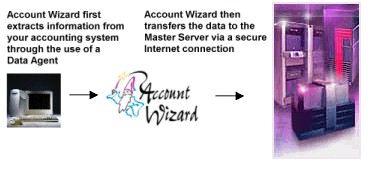 The Account Wizard Data Agent, the software responsible for extracting and transferring your data, can be configured to update the Master Server every day, twice a week, or however often you feel is necessary. The update process is fully automated and requires no activity on your behalf.
After the Master Server is updated, Account Wizard goes to work for you - sending out notifications of all new shipments and processing past-due notices. While all this is happening, Account Wizard stands ready for your customers to surf your interactive website!
For more information about Account Wizard, please read About Account Wizard and How Account Wizard Works.