How Does Account Wizard Work?
The Account Wizard service is composed of two components, the Data Agent and the Master Server. When you first subscribe with Account Wizard, you create a company account on the Master Server. While creating this account you will select an account name that will be used by your customers for accessing your site (domain users will use their new/existing domain name). In addition, you will establish configuration settings that will determine the appearance of your site. Once your account is established, you can update your account as often and as many times as you like, free of charge.
You update your account using a web browser, such as Internet Explorer or Netscape Navigator, and logging into your custom website. You then have the ability to change your configuration, change the data displayed on your website, etc. All configuration is done through the Internet, so you can update your website from any where in the world. Figures 1A and 1B illustrate the process of subscribing to Account Wizard.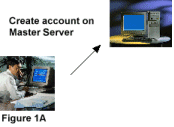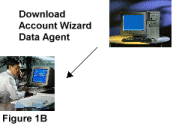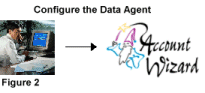 Once you have created your account with the Master Server, you will configure the Data Agent program. The Data Agent is a small program that you download to your local computer/network. The Data Agent is compatible with many of the major accounting systems available. On the days and times you select, the Data Agent will gather selected information from your accounting system, connect to the Internet, and update the master server. It's all automatic and fully secure!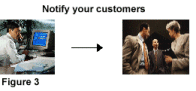 At this point, Account Wizard will automatically assign unique usernames and passwords for all your customers. By assigning unique usernames and passwords for each customer, your website will be able to present information that is specific for each client. For example, if you have multi-tier pricing configured in your accounting system, Account Wizard will present the appropriate price for each customer. Account Wizard supports the pricing methods of your accounting system!
Next, you are ready to notify your customers! Let your customers know about this new service you are providing. For ideas on how to notify your customers please read 5 Ways To Promote Your Website.
If you would like more information about Account Wizard please read About Account Wizard and What Makes Account Wizard Different?.